Italy bookshops refuse to stock Mafia family book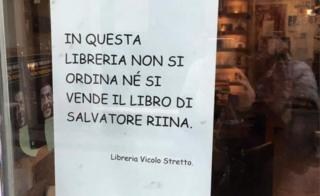 Bookshops across Italy are refusing to stock a new book written by the son of one of the country's most notorious Mafia bosses.
Signs have appeared in store windows from Sicily to Milan advising customers that the book - called Riina Family Life - won't be found on the shelves and can't be ordered either. It's written by Giuseppe Salvatore Riina, whose father, Toto, is serving multiple life sentences for murder. On Wednesday, state broadcaster Rai provoked outrage by airing an interview with the younger Riina, himself a convicted mobster.
The first sign was posted in the Sicilian city of Catania, where bookseller Angela Sciacca called on others to follow suit, Il Fatto Quotidiano reports. More then appeared in bookshop windows in Florence, Brescia and Milan, where one proprietor compared the book to Mein Kampf. Some stores says they'll stock the title to give their customers the choice, but won't promote it in their window displays.
"I have seen and we have seen - the people of Palermo more than those of Catania - what the Mafia is," the paper quotes Ms Sciacca as saying. "I don't need Riina's son to write a book to tell me who his family are and what the Mafia is," she says, adding that it would be disrespectful to the victims of Mafia violence to stock the title. The shop's Facebook post has been shared 23,000 times and garnered hundreds of supportive comments, although some users express concern that the move amounts to censorship.
The book's publisher, Mario Tricarico, is unmoved by the protest, saying 5,000 copies have already been sold and a first reprint is being planned. "Those who criticise the book should at least read it first," he tells Corriere del Veneto.
Next story: Credit blacklist for Shanghai's disloyal children
Use #NewsfromElsewhere to stay up-to-date with our reports via Twitter.