Finnish football clubs cry foul over new crowd rules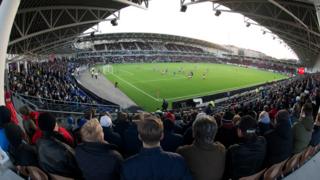 Finland's top-flight football clubs have criticised new restrictions on how fans celebrate goals, saying it will destroy the atmosphere at matches.
The Finnish Football Association wants to put a stop to fans approaching the pitch-side barriers to embrace or high-five players, and will fine clubs whose supporters continue to do so, the Ilta-Sanomat newspaper reported on 31 March.
While the association says it's a safety measure and merely clarifies existing rules, clubs in Finland's top division Veikkausliiga aren't happy. "This is one of the most stupid things imaginable," says Risto Niva, chairman of Rovaniemen Palloseura, last season's runners-up. "Is the purpose for the rules to destroy football? This makes no sense. We've never had problems."
Another club chairman tells the paper he doesn't see how celebrating behind the barriers disrupts anyone.
The league's competition manager says the rules are needed for everyone's safety, particularly where stands are entered from the front. "People trying to get in could be trampled by supporters rushing forward, and the same could happen to the ball boys," Petteri Lindblom says.
But getting close to the players is a highlight of the match-day experience for young fans, according to FC Ilves chairman Toni Hevonkorpi. "Dozens of youngsters do it. It's a big thing for them to be able to high-five the players. Now a big part of football culture has been taken away," he tells Helsingin Sanomat, joking that he expects to be fined every time his team scores from now on.
Back at Rovaniemen Palloseura, coach Juha Malinen quips that next the Football Association will require seatbelts in the stands so that fans stay put: "Then before every game there'll be an announcement: 'Please fasten your seatbelts!'"
Next story: German footballers 'black up' in protest at racist attack
Use #NewsfromElsewhere to stay up-to-date with our reports via Twitter.