Free soap leaves bad taste for Chinese athletes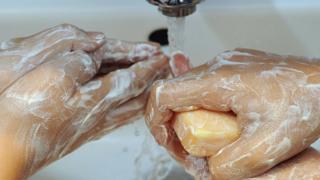 Runners in a marathon were left with a bad taste in their mouths when they mistook free bars of soap for energy bars in an incident that's been put down to the language barrier.
Some 20,000 runners at the Qingyuan marathon in south China's Guangdong province received a gift pack shortly after they crossed the finishing line, the People's Daily newspaper reports. Hoping to bite into what they thought was an energy bar, athletes instead got a mouthful of what turned out to be fruit-perfumed moisturising soap. Witnesses report many bars of soap, all with one bite missing, dumped at the roadside, and the problem appears to come from the fact that the soap packaging was written in English, which many runners did not understand, the paper's Chinese-language report noted.
The organisers of last Sunday's race were quick to apologise. "The packs of soap were indeed like food packaging. It is a negligent mistake on our part," an official told Yangtse Evening Post. There was also some concern over the level of injuries at the event, with 12,200 runners needing medical treatment or assistance during and after the race. It's not clear how many were the result of the soap incident.
Chinese social media users piled in to mock those who had taken a bite out of their "energy bars". One Weibo user urged the organisers to contact the Guinness Book of Records: "More than 10,000 people together eat soap. China is a land full of wonders". Another asked: "Why give them a bar of soap, to take a shower at the halfway point?" However, some made the point that the language barrier shouldn't have been a problem. "Your life isn't good if your English isn't good", one Weibo user said philosophically.
Next story: Chocolate-free Easter Bunny hunt is bad news for NZ rabbits
Use #NewsfromElsewhere to stay up-to-date with our reports via Twitter.