Backlash in Japan over award for beached whale photo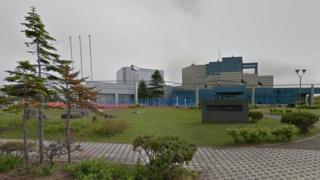 A Japanese museum has revoked an award for a photo of a man standing on a beached whale after an angry backlash from animal lovers.
The picture - taken by a photographer from the northern island of Hokkaido - shows a man posing on the sea mammal's body with one arm raised in an apparent gesture of celebration. Entitled Conquest, it was given the Hokkaido Governor's Award in a competition judged by the local Okhotsk Sea Ice Museum, according to the Kyodo news agency, which also published the photo. "The young man succeeded in accomplishing a feat that can be rarely seen," one of the judges said in praise of the image's human subject.
But many on the internet were far less impressed, with one post calling the picture "blasphemy against nature". Alarmed by the criticism, the museum - which is devoted to exploring the natural world through the study of sea ice - withdrew the award and apologised in a Facebook post. "We consider the cause [of the backlash] to be our lack of care and awareness about nature and the environment, even though we are an institution that studies them," museum director Shuhei Takahashi is quoted as saying by Kyodo. "We are reflecting on that seriously."
Whales are often a sensitive subject in Japan - the animals were a major source of food for the country until the 1982 international ban on commercial whaling. The Japanese government still conducts an annual whale hunt for what it says are research purposes. Activists say the programme is illegal and unnecessary.
Next story: Russian company backs Sharapova in lollipop form
Use #NewsfromElsewhere to stay up-to-date with our reports via Twitter.