Altered Images: Captain America ditches Russian badge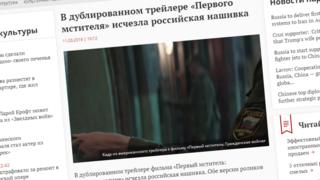 Eagle-eyed film fans have noticed that Russian national symbols have gone missing from the Russian-language trailer for the forthcoming Captain America film.
The opening scene of the promotional clip - already viewed 13m times since it was released yesterday - for Marvel's Captain America: Civil War film shows a Russian guard turning a key which opens a pair of huge doors in a prison facility holding the Captain's adversary, The Winter Soldier. Clearly in shot on the guard's sleeve is a badge with the Russian flag and the word "Russia", as featured on the uniforms of all Russian police and security personnel. But as popular radio station Ekho Moskvy reports on its "Video of the Day" section, the Russian-dubbed version of the clip shows the badge, but with the flag and "Russia" airbrushed out.
The change has also been noticed by the Russian Gazeta news website, which also points out that the film is being marketed under a different name in the country - The First Avenger: Confrontation.
However, the airbrushing of Russian symbols doesn't appear to be much of an issue for the 1.2 million people who have viewed the Russian-language clip on YouTube. Commenters are more preoccupied with a surprise appearance from one of Marvel's stable of superheroes, the quality of the CGI effects, and whether Tony Stark's (Robert Downey Jr) Ironman suit is able to stop a bullet from point-blank range.
Next story: Stray dogs deemed terror threat at Indian airport
Use #NewsfromElsewhere to stay up-to-date with our reports via Twitter.