Stray dogs deemed terrorism threat at Indian airport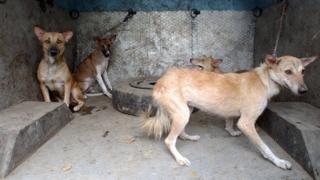 Authorities at Delhi's largest airport say stray dogs roaming operational areas could be used in a terrorist attack, but are having difficulty removing them due to animal welfare laws.
The Times of India newspaper says the operators of Indira Gandhi International (IGI) Airport wrote to the local South Delhi council asking for the immediate removal of dogs from around the terminal buildings, claiming there has been a trend where animals "have been used to explode explosive devices at public places". The call came immediately after the four-day long attack in January on Pathankot air base by jihadist fighters.
But the removal of the strays may not be as straightforward as hoped, as the law stipulates that councils can only remove dogs for neutering and must then release them at the same place where they were captured. The best that can be done is to remove the animals from terminal buildings and relocate them "to adjacent areas such as parking lots after sterilisation", the Animal Welfare Board says. Now the case has come to court as the council tries to convince judges that the animals should not be released in or near the airport. It says they'd only make their way back to operational areas, where they are "a serious inconvenience to passengers and tourists".
It could be another four months before a final decision and workable solution can be found, the Times of India says.
Next story: Swiss beaver compensation bid turned down
Use #NewsfromElsewhere to stay up-to-date with our reports via Twitter.