Hong Kong leader suggest workers 'swim in the harbour'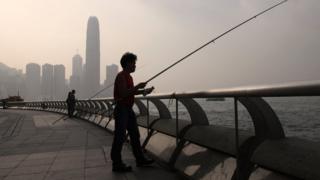 Hong Kong's chief executive has suggested that workers should be able to swim or fish in the harbour during their lunch breaks - an idea which has been met with ridicule in some quarters.
Leung Chun-ying, has suggested that a swimming platform be set up on the Central Waterfront, The Standard newspaper reports. Writing on his blog (Chinese), he said that the waters have "leisure and athletic values", and "one would be able to swim for 20 minutes after lunch". He also suggested that workers could spend their lunch hours fishing in one of three planned angling zones. "After having a simple meal during lunch hour, for the remaining 45 minutes office workers in Central could sit by the shore and fish. It is a very good way to relax," he wrote.
However, it appears that Mr Leung's ideas have not been met with enthusiasm. Victoria Harbour's waters are so polluted it could take up to 20 years to make them safe for swimming, with anyone brave enough to take a lunchtime dip would be facing E. coli and salmonella, The Standard says. And it's not just the state of the water that's causing concern: One lifeguard told the South China Morning Post that "everybody knows you should not swim after lunch".
Anglers didn't seem to be taking the bait either. One bait shop owner said that fish don't tend to bite at that time of day due to the heat and noise, and noted that "if all you have is 45 minutes, you are almost ready to pack up before you start."
It's the lack of time to do anything in your lunch hour that struck Legislative Council member Lee Cheuk-yan. "Does he know how long workers have to queue for a meal?" he asked. A poll on the South China Morning Post's homepage showed where Hong Kongers' true allegiance lies. Asked which lunchtime activity they preferred, 56% said "shopping".
Next story: Italian mayor marks Women's Day with pepper spray
Use #NewsfromElsewhere to stay up-to-date with our reports via Twitter.