Blog post stirs Japanese anger over child care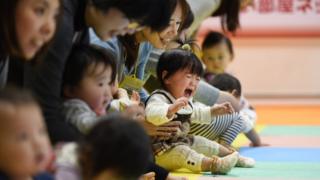 Japan's Prime Minister has been forced onto the back foot over nursery places after an angry mother's blog post captured national attention.
PM Shinzo Abe said that his government is committed to improving the provision of child care facilities after the blog post went viral, the Mainichi Daily newspaper reports. The strongly-word post, written by an anonymous mother after her child was denied a place in a nursery, was entitled "Hoikuen ochita, Nihon shine!!!" ("My child wasn't accepted for nursery school. Die, Japan!!!"), going on to say "I will now have to quit my job. Seriously, get your act together, Japan".
After the post became popular online, it was mentioned in a parliamentary debate, causing Mr Abe to prompt anger by doubting its authenticity. "There is no way to verify the post since it is anonymous," he told the House of Representatives. However, the author has since contacted Kyodo News Service and told them that she didn't think she'd "cause so much commotion" with her post. Defending her use of strong language, she said that if she had been polite "I wonder if my post would have spread this far".
Now the Prime Minister has found himself at the receiving end of parental protests outside the National Diet (Parliament) building in Tokyo. One single mother at Saturday's demonstration told the Mainichi Daily that she hadn't worked for two months since failing to get a nursery place for her daughter. "I've had no income and I don't know what to do. I really empathise with the blog," she said.
Responding to what Chief Cabinet Secretary Yoshihide Suga called "the sadness and desperation felt by parents who are not able to have their children admitted to nurseries and unable to work like they used to", Mr Abe insisted that 500,000 more nursery places would be available by the end of 2017. "It's not a failure. We're working hard," he said.
Next story: Russian TV channel militarises International Women's Day
Use #NewsfromElsewhere to stay up-to-date with our reports via Twitter.