Russian TV militarises International Women's Day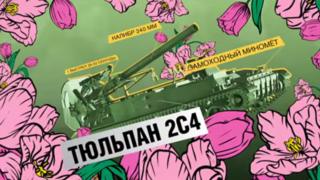 A Russian TV station has come up with a novel - and some would say inappropriate - way of marking International Women's Day on 8 March.
As REN TV itself put it, "instead of the expected spring bouquets, the channel will show military equipment that is named after flowers". Accordingly, over the past few days, the channel, which is owned by businessmen close to the Kremlin, has punctuated its programmes with 10-second animated clips showing the Tulip self-propelled gun, the Acacia Howitzer and the Hyacinth field gun.
"Russian spring, Russian flowers - dear women, we wish you a happy holiday on 8 March from REN TV," the male voice-over says to the accompaniment of vaguely martial brass fanfares and drum rolls. The seemingly innocent reference to the "Russian spring" has a second, more political meaning - as the term applied by nationalists to Russia's military intervention in Ukraine.
Another longer 8 March clip shows a young blonde, blue-eyed woman in close-up answering questions about her lifestyle. She doesn't like high-heels, her favourite dog is an Alsatian, and her favour flower is Cheremukha, a type of cherry blossom. The camera then cuts away to reveal that the young woman is dressed in the uniform of a riot police officer. It also shows that Cheremukha is, as most Russians know, another name for tear gas.
Many social media users have reacted with humour to the clips. "Russian TV knows what women want," one wrote on the popular platform VKontakte.
But popular Ukrainian blogger Igor Bigdan deplored them as another sign of the ongoing "militarisation" of Russian society. This has included the domination of the news by military conflict, a fashion for hiring out military vehicles for weddings, a range of propaganda T-shirts showing nuclear missiles and the reintroduction of Ready for Labour and Defence of the USSR, or GTO - a civil defence programme which had been phased out after the end of the Soviet Union.
"What will be next," Bigdan wondered, "The New Year's tree decorated with grenades and ammunition belts?"
---
What is International Women's Day?
International Women's Day has been held on 8 March every year since 1913, and has been recognised by the United Nations since 1975.
The UN says it's a time to reflect on progress made, to call for change and to celebrate acts of courage and determination by ordinary women who have played an extraordinary role in the history of their countries and communities.
The theme of this year's day is "Planet 50-50 by 2030" - aiming to achieve global equality in areas such as education and end all forms of discrimination.
Read more on International Women's Day
Five images that reveal how women are treated
BBC Trending: Are Saudi women really that oppressed?
In pictures: Women making technology work for them
Why women can thrive in science-fiction
What will be Michelle Obama's legacy?
---
Next story: Cyprus graveyard dispute could lead to change in the law
Use #NewsfromElsewhere to stay up-to-date with our reports via Twitter.