Italian parliament bar clamps down on bill-dodging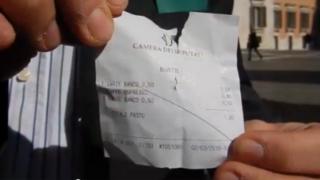 The bar inside Italy's lower house of parliament has deployed "receipt inspectors" to ensure that MPs pay their bills, it's reported.
The establishment at Palazzo Montecitorio, home to the Chamber of Deputies, has lost a significant chunk of revenue because some politicians have been failing to settle up, Corriere della Sera reports. The company that took over running the bar last year noticed that takings were 30% lower than expected. Staff have now been told that customers must pay for their order and show their receipt to the barista before actually being served any refreshments - something that is done in some Italian bars.
They'll be backed up by a team of receipt-checkers, whose job will involve being "discreet, but inflexible", observing patrons and intervening if anyone fails to pay up, the paper says.
La Repubblica appears to have staked out the bar in order to see the new system in action, and while some deputies took it well, others were exasperated. When MP Maurizio Lupi was asked to pay for his fruit juice and sandwich before enjoying them, he reportedly said: "Are you crazy? I consume and then I pay, like in every bar in the world!" Another simply responded with a sharp, silent stare.
Next story: Indigenous people create computer game
Use #NewsfromElsewhere to stay up-to-date with our reports via Twitter.