Russian troops 'lose' field gun after holiday salute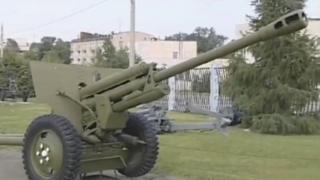 Russian soldiers have been left red-faced after losing a large artillery piece in the middle of the city of Volgograd, it's reported.
Surprised locals called the police after finding the weapon - a World War Two-era ZiS-3 76mm mobile field gun - blocking the pavement of a major thoroughfare near the centre on Tuesday evening, the LifeNews TV channel reports. It turns out the gun went Awol as it was being towed back to the barracks in a column of military vehicles from the city's Volga embankment, where it had been used in a gun salute to mark the Defender of the Fatherland Day - an annual official holiday celebrating the armed forces.
One eyewitness reports seeing it uncouple itself from a turning lorry and trundle backwards onto the roadside, coming to rest only 1m (3ft) from a parked car. "Only a bit more, and it would have ended up in the front passenger seat," he says. It's not clear whether the troops noticed the loss, as the witness says they "carried on as if nothing had happened". A military spokesman, however, insists the servicemen did spot the gun's departure, but were unable to stop as they were in an "organised column". The errant weapon has since been safely returned to the barracks. Military prosecutors are investigating a possible breach of "laws on road safety and weapons security", LifeNews says.
Next story: N Korea row causes school uniform shortage in South
Use #NewsfromElsewhere to stay up-to-date with our reports via Twitter.