Sweden hand gel sales curbed to fight teen drinking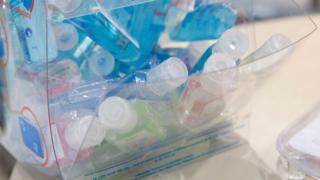 Bottles of alcoholic hand sanitiser are now only available over the counter in some Swedish pharmacies because teenagers have been using them to get drunk, it's reported.
Police in Karlskoga, in the western Varmland province, say they've asked pharmacies to restrict access to the potent anti-bacterial gels after spotting a growing trend among local teens to ingest them, public broadcaster Sveriges Radio reports. "Young people have been coming to the emergency room with alcohol poisoning and saying they had drunk alco-gel," says police spokesman Stefan Sund. He tells the radio that pharmacies had no objections to moving the items behind the counter. Hand sanitisers can be as much as 85% alcohol, and Mr Sund says teenagers have been mixing them with fruit juice to make them more palatable.
Swedes have to be at least 20 years old to buy alcoholic drinks in the country's liquor stores, which are government-run, but bars and restaurants will generally serve those aged 18 and over.
There have been numerous cases of people consuming hand sanitisers in other countries, with some UK hospitals reporting that bottles were being stolen by visitors. But the often-scented gels can also be attractive to young children. In September, a six-year-old in the US ended up in hospital after swallowing several squirts of sanitiser, saying it tasted like strawberries.
Next story: Russian troops 'lose' field gun after holiday salute
Use #NewsfromElsewhere to stay up-to-date with our reports via Twitter.