Calls for first names on Iceland's football shirts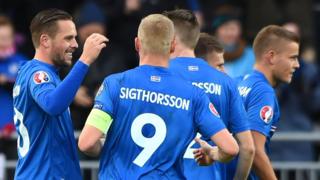 Scholars in Iceland have called on the country's football federation to reverse its decision to print footballers' last names on the national squad's shirts.
The government-run Icelandic Language Institution says the move contradicts Iceland's culture, which gives little importance to second names, and violates the country's language law. It wants players' first names printed on the back of their shirts instead, saying that's how Icelanders have been identified since humans first settled there, the Morgunbladid website reports.
Unusually, the Icelandic naming system does not rely on family names handed down from generation to generation. Instead, an Icelander's second name is usually based on their father's first name, with "-sson" or "-dottir" added at the end. That makes people's first names the most important identifier; even telephone directories in Iceland consist of alphabetised first names, with occupations added to avoid confusion.
The country's football association approved the kit design last week in preparation for the squad's participation in the Euro 2016 championship, which begins in France in June. But Iceland Magazine agrees with the academics that the decision makes little sense, because "Icelanders traditionally do not have last names in the same sense most other Europeans do."
Next story: India police fight public peeing with 'garlands of shame'
Use #NewsfromElsewhere to stay up-to-date with our reports via Twitter.