South Koreans warned over North Korean restaurants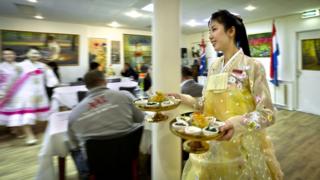 South Korea's government has warned its citizens travelling abroad to avoid dining in North Korean restaurants over fears they are funding the cash-strapped communist state.
The warning from Seoul's foreign ministry tells its citizens that scores of North Korean restaurants across China and Asia are ultimately owned by the North Korean government, and diners are inadvertently supplying hard currency for Pyongyang's weapons programmes, the Chosun Ilbo newspaper reports. As well as the financial concerns, Seoul says it's worried for the safety of its nationals abroad after the North's nuclear and ballistic missile tests, and the closure of an industrial zone run jointly by both governments, the Yonhap news agency says.
Approximately 130 restaurants are operated in 12 countries, often under the "Pyongyang" brand name to attract Koreans travelling and working abroad, The Korea Times reports. Diners are attracted by North Korean waitresses - vetted for their loyalty to the Workers' Party - in traditional dress serving Korean delicacies, followed by a nightly show featuring song, dance and photo opportunities, according to a 2010 Chosun Ilbo feature.
South Korean intelligence estimates that over $100m (£70m) is remitted back to North Korea every year from the establishments' receipts to Room 39, the government department thought to be responsible for raising hard currency from abroad.
Despite the government warning, the lure of North Korean restaurants may be too strong for some. "I'd say those restaurants have attracted South Koreans because they offer a window on the world's most secretive state that I may not be able to visit before the two Koreas are united," a Daewoo employee told The Korea Times. And academic Yang Moo-jin appears to agree - a similar warning six years ago following the sinking of the South Korean naval corvette Cheonan "didn't have much impact", he said.
Next story: China museum offers reward to decode historic coins
Use #NewsfromElsewhere to stay up-to-date with our reports via Twitter.