Siberians donate valuables for DiCaprio 'Oscar' statue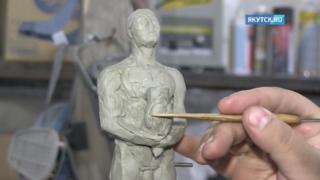 Russian fans of the actor Leonardo DiCaprio are casting a statuette in gold and silver to show their love for the film star.
No matter the result of the Academy Awards on 28 February - where DiCaprio is nominated for Best Actor for his role in The Revenant - he will be assured at least one award thanks to his fans in eastern Siberia, state-run TASS news agency reports. Around 100 locals in Yakutsk have donated gold and silver, which will be melted down and cast into a statuette of a man holding a choron, a traditional Yakut three-legged goblet. According to TASS, the goblet will be in gold, while the figure will be silver, "a metal sacred to the people of Yakutia with powers to purify and protect its owner."
The statuette's size will be determined by the amount of metal donated but it will be no shorter than 30cm (12 inches), TASS concludes.
Local television reports show fans donating their valuables to the "Oscar Leo!" campaign, while sculptor Nicholas Chochchasov works on the clay prototype for the statue. Risking the trademarks of the Academy of Motion Picture Arts and Sciences, campaign spokeswoman Tatyana Yegorova tells Yakutsk TV that, apart from the goblet replacing the Oscar's sword, the figurine will be almost identical to the original. However, she insists that the Siberian prize is equally valid for his part in The Revenant, which was released as "The Survivor" in the Russian market. "Since the movie is a mass art form, aimed at the broad masses, we believe that viewers have a right to give this prize," she says.
As well as the award, the Oscar Leo! campaign has also extended an invitation for DiCaprio to holiday in Yakutsk this summer.
DiCaprio's Russian fans aren't just restricted to eastern Siberia, it seems. In 2010, Vladimir Putin praised the actor as "a real man" after his plane made an emergency landing on a trip to St Petersburg.
Next story: Row over Spain's English-language Eurovision entry
Use #NewsfromElsewhere to stay up-to-date with our reports via Twitter.