Row over Spain's English-language Eurovision entry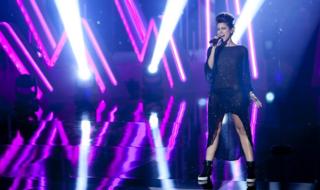 Spain's 2016 Eurovision Song Contest entry has been criticised by a member of the country's top language authority because it is entirely in English.
The track, called Say Yay, will be performed by Madrid-born singer Barei at the annual extravaganza in Stockholm in May. It marks the first time that the country's offering features no Spanish at all - something which has irked the Royal Academy of Spanish Language (RAE), the official body responsible for overseeing the language's use.
"Bearing in mind that Spanish is a language spoken by 500 million people, presenting a song in English is surprisingly stupid," academy member Jose Maria Merino is quoted as saying by El Pais. He says the country's public broadcaster RTVE, which runs the selection show, has a "moral and cultural responsibility" to protect the language. The academy took similar umbrage to the mixed English-Spanish lyrics of the country's 2014 entry.
In January, Barei defended her song after the broadcaster asked her to include some Spanish lyrics. "I have nothing against our language, of course, but my project is in English," she said. "We might not like it, but it is much more international than Castilian."
She'll be hoping the change of language prompts a reversal in Eurovision fortunes for Spain, which hasn't tasted success for more than 40 years. Winners in 1968 with the imaginatively titled La, La, La, it shared the glory with three other countries a year later, in a rare four-way tie which included Lulu's Boom-bang-a-bang. While several past entries have featured some lyrics in English, the 1978 offering also dabbled in French.
Next story: Dubai ruler seeks student for cabinet post
Use #NewsfromElsewhere to stay up-to-date with our reports via Twitter.