Czech president prompts outrage over PM gun joke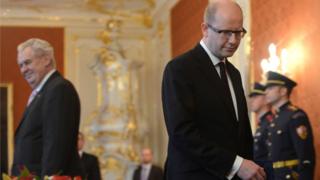 Czech politicians have taken to social media in outrage following their president's suggestion that the prime minister could be "got rid of" by shooting him.
President Milos Zeman - who is known for his outspokenness - admitted in a radio interview in December he wished he could sack Prime Minister Bohuslav Sobotka. At a public meeting in southern Moravia on Monday, the president was asked how he would get rid of the prime minister, to which he replied: "The democratic option is one way, through free elections. The undemocratic option is a Kalashnikov."
The remark prompted a flurry of criticism from politicians on social media. "Tasteless jokes about the use of weapons against state representatives only pour fuel on the fire," Interior Minister Milan Chovanec tweeted. MEP Pavel Svoboda posted an image of Sylvester Stallone as Rambo on his Twitter account, asking if Mr Zeman intended to brandish the Kalashnikov himself, or if he planned to hire someone to wield the weapon for him. And the leader of the conservative TOP09 party, Miroslav Kalousek, noted ironically that Mr Zeman's comment was a piece of "truly statesmanlike advice".
Mr Sobotka has described the president's remarks to be "silly" and "pointless". He wrote on Facebook: "We are in all likelihood the only country in the civilised world in which the president calls publicly for the killing of the prime minister. I can cope with it, but it bothers me that Zeman scares my children, my whole family and my friends."
The president's spokesman later dismissed the criticism as a "hysterical reaction", insisting that Mr Zeman meant to say that a free election is the only acceptable way to remove a prime minister, and that for his critics to suggest otherwise was "extremely hypocritical".
Next story: Copenhagen gets musical ambulances
Use #NewsfromElsewhere to stay up-to-date with our reports via Twitter.