New Zealand: 'Poo pots' offered to mountain climbers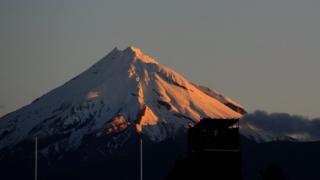 Climbers of one of New Zealand's best-known peaks are being encouraged to use "poo pots" rather than foul the summit, it's been reported.
Piles of human faeces are becoming a problem at the summit of Mount Taranaki, as it's not practical to build a toilet atop the 2,815m (9,235ft) dormant volcano, New Zealand's 3News reports. Instead, climbers are being urged to carry their own mess back down with them, much as a dog walker would clear up after their pet. The problem is reportedly so severe that both the Department of Conservation and local Maori groups - known as iwi - want it to be compulsory for climbers to clear up after themselves, with poo pots being offered on the NZ Alpine Club's website for NZ$6 ($3.90; £2.70).
The problem is not unique to New Zealand - the government in Nepal has yet to come up with a solution to the problem of human waste disposal on Mount Everest.
Mount Taranaki, also known as Mount Egmont, the name given to it by Captain Cook, is regarded as a living ancestor by Maori groups, who are often annoyed by people breaking cultural taboos connected with the peak. In 2011, a barbecue at the summit caused particular fury, the Stuff.nz website says. "Maori often personify landmarks and give them human form," Ranger Dave Rogers says. "The head is very sacred to Maori-dom, to stand on the summit is to stand on their ancestor's head."
Next story: South Korea conscripts ask to extend their military service
Use #NewsfromElsewhere to stay up-to-date with our reports via Twitter.