South Korea: Conscripts ask to extend their service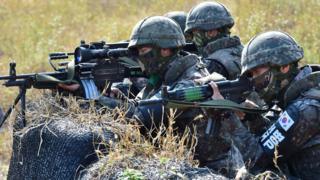 Over 1,000 conscripts in the South Korean armed forces have asked to extend their service following North Korea's alleged H-bomb test last week, it's emerged.
Some 900 serving in the South's army and 150 Marines have applied to postpone their discharge as tensions remain high on the Korean peninsula, the Chosun Ilbo newspaper reports. According to Seoul's defence ministry, the majority of those applying are troops in frontline areas along the heavily-fortified 38th Parallel which separates the two countries. The Koreas are technically still in a state of war since the 1950-53 conflict, and all South Korean males between the ages of 18-35 must undergo compulsory national service. Army and Marine service lasts for 21 months, among the longest in the world.
However, while applauding the soldiers' zeal, it's likely that the ministry - which can extend national service by up to three months - will decline most of the applications. "We welcome the soldiers' bravery, but we concluded that this crisis isn't as serious as last year's," a spokesman told Chosun Ilbo, referring to a mine explosion in August 2015 which injured two South Korean soldiers.
Tensions are running high in the region after North Korea detonated what it claimed to be a hydrogen bomb last week, though experts say that the test was likely a failure. Pyongyang also claimed the successful launch of a submarine-launched ballistic missile, but video analysis suggests that the test resulted in the missile exploding; while on 13 January, the South fired warning shots at a drone which crossed the border.
Next story: Indian state slaps luxury tax on samosas
Use #NewsfromElsewhere to stay up-to-date with our reports via Twitter.