Austria: Vienna 'homeless tours' aim to counter stigma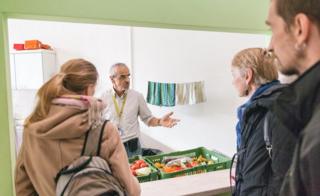 A new tour company is giving people the chance to see what life is like for Vienna's homeless population, with tours guides who have experienced life on the streets first hand.
Those who sign up for the itinerary will be shown around facilities including an homeless shelter and a soup kitchen by people who are homeless themselves, public broadcaster ORF reports. The aim is to counter prejudice and to show that "homelessness can happen to anyone", says Dieter, one of the guides. "I was once someone who thought it could never happen to him."
But it's also intended to potentially help guides to rejoin the labour market, according to Perrine Schober from Shades Tours, which runs the project. "The tours are a stepping stone that will be used by future employers as a reference for reliability and willingness to work," she says. Tickets for the tour, which lasts two and a half hours, cost 15 euros (£11), and the company says that guides are paid for their work.
The company says it was inspired by similar projects in other European cities. One scheme in Berlin saw tour guides bypass the traditional sights and point out services such as used-bottle return machines, or 24-hour shopping centres where homeless people go to stay warm.
Next story: Mast spat threatens new Wallis and Futuna mobile network
Use #NewsfromElsewhere to stay up-to-date with our reports via Twitter.