Papua New Guinea: Unpaid tax delays Chinese gift to army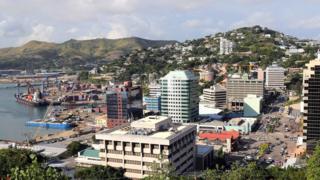 Forty military vehicles donated to Papua New Guinea by China are stuck at the border because the army hasn't paid the required import duties, it's reported.
The range of trucks, buses and smaller one-tonne vehicles have been sitting at the main wharf in the capital, Port Moresby, since arriving there in December, the Post Courier newspaper reports. The ONE Papua New Guinea website carries a picture of what appears to be the hardware in question, parked in rows on the harbourside. The military had asked customs officials to waive the import tax because it was receiving a gift to the government, but the request was rejected.
The acting chief of Papua New Guinea's Defence Force, Col Ray Numa, tells the Post Courier that the army would now have to find the money, although he did not specify how much. It could be a hefty sum because, according to the colonel, the vehicles appear to be brand new and still covered in protective plastic film.
China's expensive gifts to Pacific nations over the past few years have prompted concerns over the country's growing influence in the region. In June 2015, it gave Tonga more than 30 vehicles for the coronation ceremony of His Majesty King Tupou VI. And a year earlier, the Chinese government gave $4.6m-worth (£3.1m) of cars and buses to Samoa.
Next story: Brazilian thieves make off with whole newsstands
Use #NewsfromElsewhere to stay up-to-date with our reports via Twitter.