Balkans: Campaign launched to discourage festive gunfire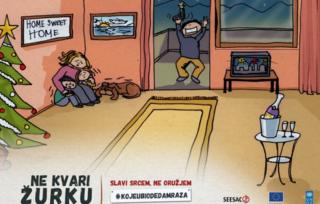 A social media campaign has been launched in the Balkans to discourage the custom of celebratory gunfire.
Firing into the air is commonplace across the region on festive occasions such as weddings, and during Christmas and New Year's Eve. But there have been a number of recent cases of stray bullets injuring or killing bystanders, according to the non-profit Seesac group, which promotes gun control and is spearheading the initiative.
Its campaign, dubbed Don't Ruin the Party, will run across major social networks until 20 January with the key message: "Celebrate with your heart, not your gun." Cartoon videos and posters show residents and pets cowering as bullets fly, and even the image of an apparently dead Santa Claus's boots alongside the hashtag #whokilledSanta.
The Balkan Insight website also sounds a warning about the sometimes lethal custom, noting that a 10-year-old girl was killed by a stray bullet at a wedding in Macedonia in March. And in December last year, a woman in Albania was shot in the head while in the kitchen with her son.
Celebratory shooting was banned by the communist authorities in the region during the Cold War, but the custom made a dramatic comeback after ethnic strife in the 1990s led to a proliferation of weapons. "Present-day use of celebratory gunfire tends to have more links with the widespread availability of guns in the region, rather than as a result of tradition," Seesac says.
Next story: Istanbul police patrol in Santa outfits
Use #NewsfromElsewhere to stay up-to-date with our reports via Twitter.