New Zealand: Bidders vie for 'unwanted' NZ$100 banknote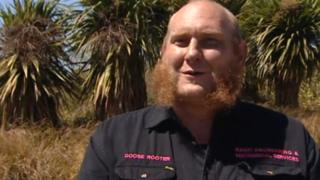 A New Zealand man has poked fun at the practice of selling unwanted Christmas presents online by auctioning a NZ$100 note to the highest bidder.
Engineer Robbie Shefford posted an advert for the cash on the Trade Me site on 26 December, and it has since become the most viewed auction page of the year, Radio New Zealand reports. Described as an "unwanted gift", the note attracted a flurry of bids well above its actual value, with a current highest offer of NZ$180 (US$124; £83).
"Boxing Day is the day all the kids put all their unwanted Christmas presents on Trade Me to get money to buy the stuff they really wanted," Mr Shefford tells the radio. "It's a bit of a joke that people are having a laugh at and that's sort of the main thing." The auction closes on 2 January, and he says any money he makes will be given to the Ronald McDonald House charity.
Trade Me says the winning bidder will be legally required to pay up, but that outlandish offers - including some of more than $5,000 - have been removed. Spokesman Logan Mudge says the site wants to ensure there "aren't any shenanigans going on" in the bidding process. "This particular seller has captured people's imagination and he's taking a bit of the mickey out of these unwanted gifts," he tells Radio New Zealand. "We want to see a bit of a result for him."
Next story: Book of Putin quotes 'given to Russian officials'
Use #NewsfromElsewhere to stay up-to-date with our reports via Twitter.