Russia: Book of Putin quotes 'given to officials'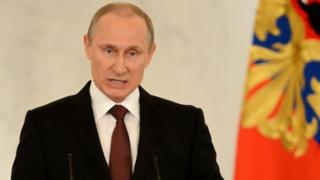 Officials across Russia have been given a 400-page book of "prophetic" quotes by President Vladimir Putin as a new year gift, it's reported.
The collection, entitled Words That Change The World, was sent to as many as 1,000 people by one of Mr Putin's top aides, Vyacheslav Volodin, according to the business newspaper RBK. Recipients include MPs, regional governors and civil society representatives. In an accompanying letter, Mr Volodin says the book should be seen as a guide to the Kremlin's "values and guiding principles". He's also reported to have recommended it to a recent meeting of officials as "required reading for any politician".
The book is said to include the text of 19 speeches by Mr Putin, and highlights key quotes in bold that the introduction says "predicted and preordained" world events. Among the texts are a 2007 speech in Munich in which Mr Putin accused the US of courting disaster by seeking to dominate the global order, and his 2014 address to Russian parliamentarians fiercely defending the annexation of Crimea.
The book is edited and published by Network, a pro-Kremlin youth movement. "We noticed that everything Putin says to some extent comes true," member Anton Volodin - said to be the brains behind the book - tells RBK. "Putin's words can be described as prophetic."
But the Kremlin itself appears keen to distance itself from the project in public. Mr Putin's official spokesman, Dmitry Peskov, says he hasn't heard anything about the book and therefore can't answer any questions on it.
Earlier this month a 2016 Putin-themed calendar appeared in Russia, showing him in various scenes, including in naval uniform, holding a flower, baring his chest while fishing, and cuddling a dog. Each photo was accompanied by a Putin quote.
Next story: Georgia prisoner released after singing on TV
Use #NewsfromElsewhere to stay up-to-date with our reports via Twitter.