Iceland grapples with volcano-naming responsibility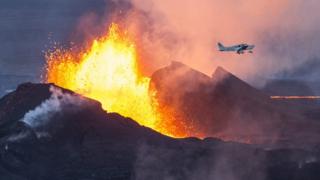 Authorities in Iceland have decided on a name for a volcano a year after it started erupting.
Council members in the rural district of Skutustadahreppur, which boasts a population of 371, took on the hefty responsibility to officially name the lava field known conversationally to locals as Holuhraun, the Iceland Review news website reports. After considering four names for the volcano - Flaedahraun, Holuhraun, Nornahraun and Urdarbruni - the vote was carried to officially use the name Holuhraun, despite only getting the backing of two of the five council members, Icelandic newspaper Visir said.
Part of the better-known Bardarbunga field in eastern Iceland, Holuhraun erupted in August 2014, with its activity ceasing in February of this year. While it might sound unusual for local councils to name volcanoes which already have a title - especially since the area has used the name since the 19th Century - Iceland Review points out that the island's ever-changing geography means features constantly need to be given official names. "In this case, it is fortunate that the new official name is the same as the old unofficial one," the website's Alex Elliott writes.
Skutustadahreppur's volcano-naming responsibility is not yet over - the council still has to vote on titles for a number of new craters formed during the last eruption.
Next story: Norwegian campaign to give mountain to Finland
Use #NewsfromElsewhere to stay up-to-date with our reports via Twitter.