Denmark: Nature agency offers free ponds to landowners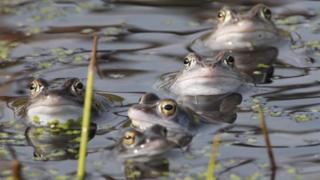 Denmark's nature agency is offering to pay for people to have ponds installed on their land in an effort to protect endangered wildlife.
The government's AgriFish Agency is offering to foot the bill for creating water features up to 1,000 sq m (10,764 sq ft) in size, the Danish Broadcasting Corporation reports. But such is the level of interest in the new scheme, officials say they probably won't be able to meet demand. So far there have been more than 100 inquiries by interested landowners, the report says.
"There are lots of callers at the moment," says Tine Eggertsen, regional head at the Hede Denmark organisation, which is dealing with the inquiries. "For a pond of up to 1,000 square metres, almost all costs can be covered," she says, adding that they can be installed on both agricultural or unfarmed land.
The scheme's aim is to improve and create new habitats for species which are in decline, including the moor frog. The amphibian is protected in Denmark but has seen a fall in numbers, largely because breeding ponds and marshes have either been filled in, drained or become overgrown or contaminated, the AgriFish Agency says.
Next story: Police seek yeast ban over home brew
Use #NewsfromElsewhere to stay up-to-date with our reports via Twitter.