Croatia: Crowds queue for savings 'lost' 24 years ago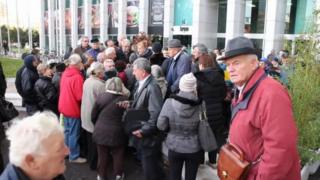 Savers have been queuing in the Croatian capital, Zagreb, to get back millions of euros from a Slovenian bank after a 24-year wait.
Around 300,000 people, mainly in Croatia and Bosnia, effectively lost their savings when Ljubljanska Banka was liquidated upon Slovenia's independence from Yugoslavia in 1991, without reimbursing depositors outside the country, the Balkan Insight website reports. After 20 years of wrangling, the European Court of Human Rights in 2014 ordered Slovenia to pay compensation estimated to be worth about 385m euros (£272m). In Croatia alone, 130m euros plus interest is owed. But the process of returning the savings has been far from smooth, and procedural disputes have further delayed payouts in Bosnia.
In Zagreb, the bank began accepting people's applications for reimbursements on 1 December. But many of the mainly elderly savers queuing there said they had received little or no information about the process. One man complained: "After 25 years of stalling with our money, is this the way to treat us?" Another pensioner, Katarina, told Balkan Insight she'd only found out about it by chance from a screen caption on a news programme. "It's not a big sum, but it's mine," she says. "It will absolutely make a difference in my life."
Next story: Young Russian artists swap paintings for food
Use #NewsfromElsewhere to stay up-to-date with our reports via Twitter.