Russia: Young artists swap paintings for food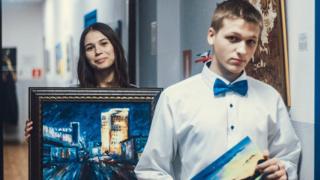 Fifteen young artists in Russia have held an auction where they exchanged paintings for food.
One picture went for 180kg (400lb) of buckwheat, while another fetched 50kg of sugar at the event held in the Siberian city of Novosibirsk. The auction's organisers say they want to encourage as many people as possible to discuss and collect art. "We can get more people interested because most collectors across the world are ordinary people of average means," organiser Denis Yefremov tells the local NGS news website.
A wide range of foodstuffs was collected by the artists, according to the event's Facebook page. Anastasiya Shcheglova's painting entitled After the Night changed hands for some salmon and 10 chocolates, while Viktoriya Yerosh's Goddess Saraswati piece was handed over for a slab of lard with garlic, organisers say. And it wasn't only food that was used as payment: a painting of a shirtless guitar soloist under a spotlight was swapped for a new pair of traditional Russian felt boots.
The event has been held annually since 2010 and calls itself "the world's most prestigious art auction where you swap paintings for food and other useful things". This year, 25 paintings were presented to bidders. The auction house's mission statement encourages potential new collectors by telling them: "Your collection will only benefit from the fact that the first painting was swapped for a can of meat."
Next story: Schools face random checks over heavy school bags
Use #NewsfromElsewhere to stay up-to-date with our reports via Twitter.