India: Random checks planned over heavy school bags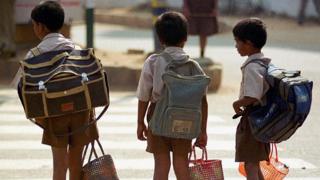 Schools in one Indian state are facing snap inspections to make sure their students' school bags are not too heavy, it's reported.
Education officials in Maharashtra state, in western India, will begin the checks this week to see whether schools are sticking to new rules on bag weight, the Hindustan Times reports. In July, the government announced that school bags must weigh no more than 10% of a child's own body weight, and issued 44 recommendations for how schools could lighten the load. Officials say that carrying heavy bags is tiring for pupils and causes injuries to their spines and joints. The deadline for implementing the changes passed on 30 November.
"We cannot extend the deadline. Our teams will visit schools in three to four days to weigh students' school bags," says director of primary education Mahavir Mane, adding that if schools fail to comply after an initial grace period, they could face court action.
Some schools have already been told to improve facilities so that students can carry less, such as making lockers available or installing water fountains. Others are asking pupils to share text books, or have rearranged timetables so that fewer books are needed each day. Those that have taken positive steps will be sent commendation letters, Mr Mane says.
Next story: New religion aims to cut church-state ties in Iceland
Use #NewsfromElsewhere to stay up-to-date with our reports via Twitter.