China: Nanjing announces fines for dirty vehicles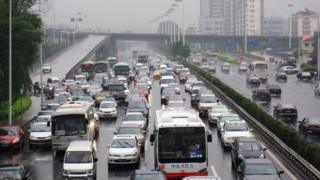 A city in eastern China is trying to clean up its image - starting with the vehicles on its roads.
The authorities in Nanjing, capital of Jiangsu province, say that drivers of dirty vehicles will be fined in future because they affect the appearance of the city, the official regional newspaper Nanjing Daily reports. Small fines of up to 100 yuan ($16; £10) will be dished out if the body, wheels or chassis of a vehicle are muddy, and the owner will be told to clean the offending areas, according to the report.
Things get more expensive if the number plate is obscured by dirt, but the highest fines are for exterior damage or peeling paintwork, which will land a driver a penalty of between 500 and 2,000 yuan, as will posting "unauthorised advertising" on their cars. Luckily for motorists, they'll be let off if the dirt is a result of wet or snowy roads.
Implementation of the new rules will be gradual with an initial focus on work vehicles, according to Liu Guozhang from the city's management committee. But that hasn't calmed Chinese social media users, many of whom are unhappy about the fines. "If my own car's dirty, what concern is that of yours?" asks one user on the Sina Weibo microblogging site, while another dismisses the rules as "nonsense". Others think it's a money-making scheme, and one person thinks the city authorities have bigger problems, asking: "And what are you doing about the dirty air?"
Next story: Russian army deserter hid in woods for 11 years
Use #NewsfromElsewhere to stay up-to-date with our reports via Twitter.