UAE: New rewards scheme for keeping fit in Dubai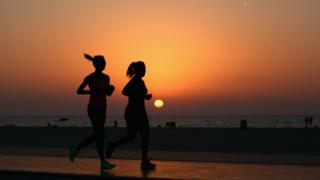 Dubai has a new plan to encourage residents to keep fit and healthy by rewarding them with cinema tickets and free gym membership, it's reported.
The new scheme, a partnership between the Dubai Health Authority (DHA) and private companies, will enable people to collect points when they eat healthily or take exercise, the Gulf News website reports. Those points will then be converted into a variety of rewards. "For the first time in the country, the DHA is all set to use a behaviour modification tool to encourage healthy eating patterns and motivate residents to exercise," says Dr Haidar al-Yousuf, head of health funding at the authority. Rising obesity rates have been causing concern in the United Arab Emirates, with one recent study finding that more than 60% of the adult population is overweight.
The scheme will be open to everyone as it's linked to Dubai's new mandatory health insurance scheme. Residents will have an online account where their reward points will accumulate, with fitness apps and other technology being used to measure participation and rewards. "If someone uses the gym three times a week, the data from the gym that is registered in this programme will let us know how healthy the user has been and how many points he should receive," says Dr al-Yousuf.
Dubai has tried a host of different schemes to improve the population's health in the past, including rewarding people with gold when they lost weight. Earlier this month, one major bank unveiled a new account which offers higher interest rates for those who exercise, with the account linked to a pedometer app.
Next story: Auckland aims to become trilingual city
Use #NewsfromElsewhere to stay up-to-date with our reports via Twitter.