South Korea: Air force saves cash with 3D-printed parts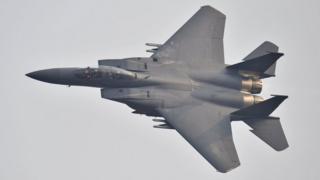 South Korea's air force is saving over 90% in costs on components for jet engines by using 3D printing technology, it's been reported.
It's using the technology to manufacture cover plates for high-pressure turbines in jet engines for its F-15K fighter aircraft, instead of ordering them directly from the United States, the Korea Times reports. Rather than paying 40m won ($34,000; £23,000) for each part, and having to wait up to 60 days for it to arrive, the cost has been reduced to just 3m won, with procurement time more than halved, Seoul's Yonhap news agency says. Military officials say that General Electric - the US manufacturer of the engines in Seoul's F-15 Eagle fleet - have approved and certified the quality of the duplicates, saving the Air Force 370m won ($321,000; £213,000) since the project started earlier this year.
Additive manufacturing, otherwise known as 3D printing, creates objects by laying down raw materials layer-by-layer into the desired shape. Raw materials can include plastic, metal or ceramics, and aircraft parts are emerging as just one application for the relatively new technology. According to US Air Force News, 3D printed parts may soon start appearing some older planes, including the B-52 Stratofortress fleet, as they often need parts "that haven't been manufactured for decades".
Despite these advances, it's highly unlikely that every component in a jet engine could be printed. The stresses and high temperatures of supersonic flight mean than many components in a jet turbine would still need to be manufactured from forged titanium, scientist and engineer Kristian Olivero told Air Force News.
Next story: MPs perform women's rights play in Ukraine parliament
Use #NewsfromElsewhere to stay up-to-date with our reports via Twitter.