S Korea: Health ministry advert angers smokers' group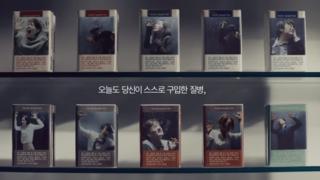 Smokers in South Korea are protesting against a hard-hitting new government advert which equates buying cigarettes with buying disease, it's reported.
The health ministry's 44-second video shows people approaching a cigarette kiosk, but instead of requesting a particular brand they ask the assistant to give them a serious health problem, The Korea Times reports. "Give me a lung cancer," one person says, before the shop assistant hands them a pack of cigarettes. The advert has been running since 16 November as part of the "Smoking is a Disease" campaign. But it has riled the country's largest smokers' group, an online community called I Love Smoking, which has previously challenged government policies in court.
"The ministry's video has clearly crossed the line," the group says in a statement, noting that the government earns a huge amount of tax revenue from tobacco products. "If smoking is a disease, drinking is a disease because it causes liver problems and eating fast food is also a disease as it brings about obesity," it says. "It is a jump of logic and discriminates against smokers." The group wants the advert to be pulled, and is planning a protest in front of the Ministry of Health. It's also calling on the Korea Communications Standards Commission to intervene.
The current advert was launched after an earlier spot was deemed "not strong enough", one ministry official told the Korea Herald earlier this month, adding that the new campaign could prove "painful" for some viewers. It's the latest in a string of measures to try to dissuade people from lighting up, in a country where about 44% of men are smokers. In January, the price of cigarettes was almost doubled, and a smoking ban was extended to cover all eateries.
Next story: Locals cut off air access to Pacific island
Use #NewsfromElsewhere to stay up-to-date with our reports via Twitter.