Serbia: Reality TV shows banished to late night slot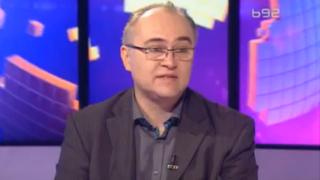 Serbia's TV watchdog has announced plans to banish reality shows to a late-night slot in schedules, after repeated complaints about sex, violence and incendiary language.
Reality programmes will only be broadcast after 23:00 under the new rules, the Beta news agency reports. There will be at least 15 days of public discussion on the plan, then the ruling will "come into force and be obligatory", Goran Karadzic, head of the Regulatory Authority of Electronic Media, tells the agency. "When we adopt it, everyone will have to respect it," he says. Broadcasters have been asked to start applying the proposed watershed voluntarily in the meantime.
As in many countries, reality shows have proved popular in Serbia since the first was launched there in 2006. But concerns that the behaviour of some participants is inappropriate for younger viewers have grown in recent months, with an online petition to have four of the shows banned gathering more than 100,000 signatures, the Balkan Insight website reports. Contestants have had sex on screen, traded punches and on one programme - The Farm - a housemate is a convicted criminal whose jail sentence was reportedly delayed so he could complete filming. One prosecutor has even tried to have The Farm banned outright, b92 TV reports.
An executive from Happy TV says its offering, called Couples, does no harm and that the new rules are "excessive", but that the channel will comply with them. "Those who think they will change Serbia by banning reality shows are megalomaniacs," Milomir Maric tells the Vecernje Novosti newspaper. "Even if they were taken off the air, Serbia would remain the same - it will not be more cultured, more developed or more well-mannered."
A spokesman for the Pink channel, which broadcasts The Farm, says the show will not be recommissioned, but denies that the new watershed had any impact on the decision.
Next story: Rare lunar rainbow spotted in night sky over Iceland
Use #NewsfromElsewhere to stay up-to-date with our reports via Twitter.