Norway: Hotel chain bans bacon and sausages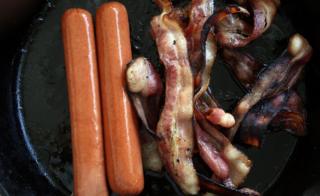 A Norwegian hotel chain has risked raising the ire of travellers by banning bacon and sausages from its breakfast menu, it's been reported.
Comfort Hotels will replace the traditional greasy breakfast items with plant-based foods to encourage a more climate-friendly, healthy lifestyle, the Hegnar.no news website reports. Guests will also see a reduction in the amount of cereals and cheese on the menu, and the chain won't serve products containing palm oil, which it says is environmentally destructive. The Comfort Hotels chain is part of the Nordic Choice hotel group, which operates more than 170 establishments in Scandinavia and the Baltic.
The group's owner, Petter Stordalen, tells Hegnar that "focusing on sustainability is what we do", adding that he believes guests "will appreciate a good, healthy start to the day", instead of a plateful of pork products. The move comes in the wake of a World Health Organisation report which linked processed foods such as bacon with colon cancer.
It's a decision that hasn't gone down well with some customers, according to the Swedish Vasterbottens Kuriren news website. While an employee at one of the chain's hotels in Sweden says there have been "mixed reactions", another hotel worker is more forthright, saying: "Personally, I think bacon and scrambled eggs should be the standard in a hotel breakfast." That appears to be a view shared by the paper's online readership, with 70% voting for "I need bacon for breakfast!" in a straw poll on their website. The pork-free scheme is still being trialled, and the chain says it is open to customer feedback.
Next story: City ends tree-planting to help allergy sufferers
Use #NewsfromElsewhere to stay up-to-date with our reports via Twitter.