New Zealand: Concern for 'world's rarest penguin'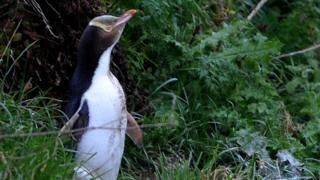 Conservationists in New Zealand say nest numbers for one of the world's most endangered penguins have plummeted to a 25-year low.
The yellow-eyed penguin is native to the country's south-eastern coastal regions, but environmental officials say this year's breeding season is "looking bleak" because of a sharp decline in breeding pairs. Only 160 pairs have been spotted so far, compared to 491 pairs in 2012, the 3 News website reports. The Department of Conservation (DOC) says some sites still need to be checked, but that the total number is unlikely rise above 190 breeding pairs.
Often referred to as the world's rarest penguin, the birds have faced a host of challenges in recent years, including repeated outbreaks of avian diphtheria, starvation and an unusually high rate of barracuda attacks.
In 2013, more than 70 of the species died in unexplained circumstances, thought to be related to a toxic agent, Radio New Zealand International reports. "The sad thing is now we are seeing the flow-on effect from that," says Brett Gartrell from Massey University, which tested the dead penguins for toxins. "There aren't a lot of birds around to breed at the moment - and that's what the yellow-eyed population desperately needs."
The DOC says it will work in collaboration with penguin conservation groups to protect the birds that are breeding this season, with increased beach patrols to help any penguins in distress.
Next story: Italian town pays people to cycle to work
Use #NewsfromElsewhere to stay up-to-date with our reports via Twitter.