Russia: Selfie stick users get self-defence classes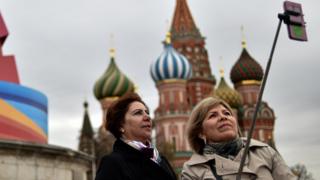 Russians who use selfie sticks to take photographs of themselves are being offered a self-defence course in case they are mugged, it's been reported.
The act of flaunting an expensive smartphone on the end of a stick can mark somebody out as a tourist, turning them into a target for robbery, and that's why one martial arts centre in Moscow has decided to act, the Lenta news portal says. Daria Lapshina of the M-Profi martial arts centre in the Russian capital told the M24 website that tourists have been the target for attacks in many countries "and the only means of defence that all travellers have is the selfie stick". Calling the new self-defence "art" mpd-fight (monopod fight), the organisers claim that it is effective against practitioners of boxing, wrestling, mixed martial arts and other types of fighting, and can be learned in five lessons, M24 reports.
The selfie stick - a handheld extension pole which allows users to take a photo of themselves from greater than arm's length - has become a bone of contention at tourist attractions around the world. In July, Disney banned the devices from its parks around the world, citing "safety concerns", while football grounds and sports arenas prohibit them as they could be a nuisance to other visitors. It's not known if proponents of mpd-fight will be able to use their skills in places where the sticks are banned.
Next story: Italian company trials email-free working to cut stress
Use #NewsfromElsewhere to stay up-to-date with our reports via Twitter.