Russia: New banknote marks Crimea annexation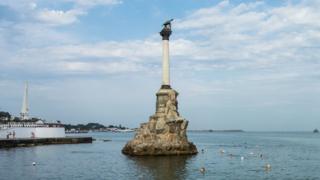 Russians are to see a new banknote commemorating Moscow's annexation of Crimea from Ukraine, in what could appear to be an act of defiance against world opinion.
The 100 rouble note ($1.50; £1) will appear next month to mark the controversial Russian takeover of the peninsula in March 2014, the Moscow Times newspaper reports. Speaking to the official TASS news agency, Georgy Luntovsky, the deputy chairman of the Bank of Russia, said that the notes will feature "symbols of Crimea and the city of Sevastopol", just as soon as the final design has been discussed with senior officials in the region.
While this is the first banknote to mark Crimea's annexation, Russians already have commemorative 10 rouble coins marking images of the annexation, carrying images of the Swallow's Nest castle in Yalta and Sevastopol's Monument to the Sunken Ships, Moscow Times says.
Russia's annexation of Crimea followed the ouster of Ukraine's pro-Russian president Viktor Yanukovych in 2014, and has been widely condemned as an illegal act by world leaders. This, and a prolonged fighting between Ukraine and Russian-backed separatists in the east of the country, has led to the imposition of a series of economic sanctions against Russia.
Next story: Tunisian MP wrongly announces death of iconic figure
Use #NewsfromElsewhere to stay up-to-date with our reports via Twitter.