China: Fire safety theme park attracts visitors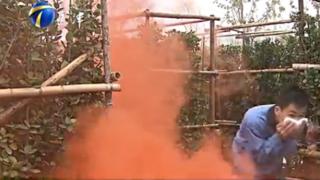 A Chinese city has opened a fire safety "theme park" staffed by local firefighters to help educate people on how to act when confronted with a blaze.
The park, called 119 after the Chinese emergency number, is located in an industrial zone in the north-eastern port city of Tianjin, the local Tianjin TV reports. The city was rocked by two enormous explosions at a chemical warehouse in August, and in the aftermath local firefighters were hailed as heroes.
The new attraction features a maze which fills with orange smoke, allowing visitors to experience the difficulties of evacuating with limited visibility, the report says. And they're on the clock - signs instruct people that they must get out within 30 seconds. "In the maze you're quite nervous, there's smoke, but we're taught how to cover our mouth and nose," one man tells the channel. "If I was faced with this situation now, I'd be able to smoothly escape."
The park includes information on the history of the fire service, and advice on how to activate fire alarms in an emergency. There's also some heavy lifting involved: visitors can see what it takes to be a firefighter by aiming a fire hose at a small target. But that's where some visitors run into trouble. "The water hose is quite big," says one woman. "It's really hard to hold."
Next story: Georgian media riled over Russian phone advert
Use #NewsfromElsewhere to stay up-to-date with our reports via Twitter.