Denmark: Speaker raps MPs for tweeting in parliament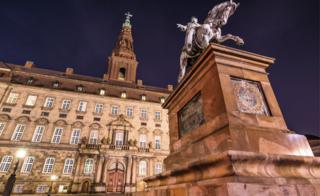 The Speaker of the Danish parliament is taking aim at MPs who spend time on social media instead of focusing on parliamentary business.
Pia Kjaersgaard, who took up the post in July, tells the BT tabloid that she's fed up with colleagues playing on their smartphones during debates, saying they must show more respect for the historic chamber. "All that is said here is written down in minutes and saved for posterity," she says. "Yet it's as if that has been forgotten."
She is particularly annoyed that some MPs were tweeting during the opening of parliament, an event attended by the royal family. Two recent social media posts have also caught Ms Kjaersgaard's attention - both showing MPs posing at the Speaker's empty lectern - and she says there will now be a review of photography rules inside parliament. One of the MPs in question - Yildiz Akdogan - says no disrespect was intended.
On the paper's Facebook page many people agree with Ms Kjaersgaard, and some suggest that MPs should have to leave their phones at the door, as happens in some Danish schools. "I've noticed it myself when watching broadcasts from parliament," says one user. "Is it too much to ask that they concentrate on their work? That's what they're paid so well for!" But others strike a more jaded note, with one person writing: "At least if they're sitting and looking at their phone or taking pictures, they're not causing any calamities."
Next story: Russian TV show offers factory jobs as prize
Use #NewsfromElsewhere to stay up-to-date with our reports via Twitter.