Tajikistan: President opens huge melon-shaped tea house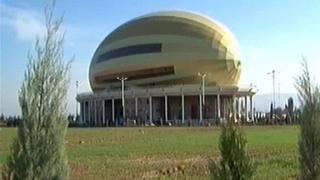 A huge, melon-shaped tea house has opened in western Tajikistan.
The eye-catching building, located in the city of Hisor, is said to be 43m (141ft) high and designed to accommodate more than 2,000 people at a time. Described as "magnificent" and "unusual" in a report on state-run Tajik TV First Channel, it was inaugurated by President Emomali Rahmon on Tuesday. The two-storey building is being referred to as the National Tea House, and was built as part of celebrations for the city's 3000th anniversary. "There is no building in the shape of a melon anywhere," one man present at the opening tells the channel, adding that he thinks the tea house is "beautiful".
That view isn't shared by people commenting online. "When I was driving by this building I thought it was a rugby ball and should be a sports complex," one user writes on the privately-owned Asia-Plus website. Another person doubts that the tea house will ever be full to capacity, describing it as a "useless pompous construction". And several point out that many people in Tajikistan - Central Asia's poorest country - won't have the money to enjoy it. "They're building a tea house with 2,300 seats while people are starving," reads one comment on the Avesta new agency website. "There is window-dressing everywhere."
Melons are grown widely in Tajikistan, and are popular throughout Central Asia. Nearby Turkmenistan has even dedicated a special holiday - known simply as Melon Day - to celebrating the fruit's delights. At a recent event in the Tajik capital, Dushanbe, President Rahmon showed off the fruits of the country's agricultural labour to officials from the Commonwealth of Independent States (CIS) - including a huge tower of melons in the shape of a tree.
Next story: Translation hotlines set up to help tourists in Japan
Use #NewsfromElsewhere to stay up-to-date with our reports via Twitter.