China: Chengdu rolls out intelligent rubbish bins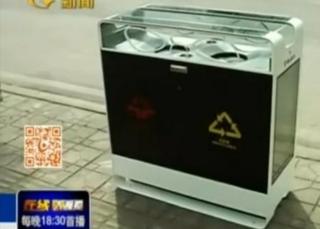 A city in southwest China is launching street rubbish bins with a difference - they have inbuilt wi-fi aerials, it's reported.
The bins will go public in Chengdu, the main city of Sichuan Province, later this month, according to China Radio International. Free internet access is not the only hi-tech aspect, as they will also use two panels atop to harness solar energy. Excess electricity will be stored in a battery in the base.
The bins also carry out tasks more usually associated with rubbish collection, albeit with a futuristic twist. They have a GPS function to tell street-cleaners when it's time to take out the trash and, as if that were not enough, they are fire and bomb resistant. The bins open only when someone approaches, and have an automatic sanitiser to neutralize bad smells. The press says local people have already nicknamed the bin King Kong. "With 5mm-thick stainless steel plates and a four-layer structural design, it certainly lives up to the name," notes the Huaxi Metropolis Daily."
Next story: Iceland coach driver rallies support for refugee day trips
Use #NewsfromElsewhere to stay up-to-date with our reports via Twitter.