Kyrgyzstan: Online protests over new chairs for MPs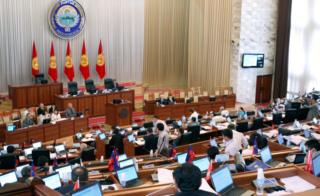 The Kyrgyz parliament has abandoned efforts to buy new seating for MPs after a social media campaign against the plan, it's reported.
The body's administrative office had wanted to buy 120 new chairs at a cost of more than 2.6m Kyrgyz soms ($38,000; £25,000), but on Tuesday the public tender was cancelled following days of online protests, the privately-owned Kloop.kg website reports. The existing chairs were bought in 2010 and are now "worn out", according to Nurbek Kadyrov, deputy head of the administration office. When the tender was announced, he told the Knews.kg website that they would be donated to children's homes and schools.
Social media users angry at the cost of the plans rallied behind the hashtags #120seats and #mychair, sharing photographs of their own office seating and asking why MPs aren't satisfied with their current furnishings. Some posted pictures of old and run down chairs, suggesting that parliamentarians should use them instead. "Let's give chairs to MPs, many of you might have one in a shed or garage," said one Facebook user, who also uploaded an image of a peeling wooden chair. On Twitter, one man posted an image of a shabby plastic seat with the comment: "This chair has more benefits than some MPs. Shame!" There were also calls for the cash to be allocated to cancer treatment centres to buy new equipment.
Internet use is slowly increasing in Kyrgyzstan, according to the US-based advocacy group Freedom House, although most users are in major towns and cities. In 2014, more than 28% of the population accessed the internet, up from about 20% in 2010.
Next story: Norway police use Facebook to find hashish owner
Use #NewsfromElsewhere to stay up-to-date with our reports via Twitter.