Vanuatu president's anger as stand-in pardons himself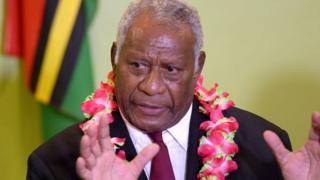 The president of the Pacific island nation of Vanuatu has expressed his anger after his deputy pardoned himself and 13 other convicts while he was out of the country.
Speaker Marcellino Pipite was one of 14 MPs - half of the country's parliament - who were convicted last Friday of giving and receiving corrupt payments over a vote of no confidence in a previous government. With President Baldwin Lonsdale out of the country on Saturday, Pipite used his delegated powers to gazette a pardon for himself and his fellow defendants, Radio New Zealand International reports. Vanuatu's constitution allows the speaker to assume presidential powers in the absence of the head of the republic, including the power of pardon. Pipite told local media that his action was to maintain "peace and unity" in the country, but as Australia's ABC reports: "When pressed on how the bribery convictions could spark instability, Mr Pipite failed to answer."
Returning to Vanuatu on Sunday, President Lonsdale said he was full of sorrow over what he called the "unlawful decision" to issue the pardon, Radio New Zealand said. After meetings with local politicians and the National Council of Chiefs, he declared that no-one in Vanuatu is above the law, and would make a decision on his next step within days. "I will clean the dirt from my backyard... We as a nation have to stop these crooked ways," ABC quoted him as saying. The convicted MPs were due to be sentenced at the end of this month, and faced prison sentences of up to 10 years for their part in the bribery scandal that amounted to 35m vat ($310,000; £200,000).
See also: Vanuatu country profile
Next story: Serbian villagers threaten to convert to Islam
Use #NewsfromElsewhere to stay up-to-date with our reports via Twitter.