UAE: Dubai to hold 'first camel marathon'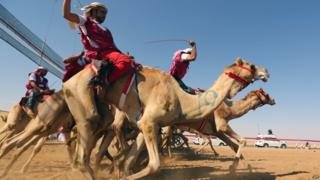 Dubai is preparing to host what's being billed as its first camel marathon later this year, it's reported.
More than 1,000 camels and their owners are expected to compete in the 50-km (31-mile) race on 3 December to mark the United Arab Emirates' National Day, according to the 7Days website. The first 50 riders to finish will win prizes from a 2m-dirham (£350,000, $540,000) pot, and the top three will get luxury cars. While camel racing is a longstanding part of UAE's sporting calendar, this is said to be the first one to be held over such a long distance, and could be taxing for both camel and rider. Riders must be over 18 years old, ruling out the younger jockeys often favoured in camel racing for their light weight.
"Training and conditioning will play a big role in this marathon, along with the rider's tactics in pacing the camel over the long distance," says Saeed Bin Sarud, the director-general of the Dubai Camel Racing Club. The race's co-organiser, the Hamdan bin Mohammed Heritage Center (HHC), says its aim is to preserve the UAE's cultural heritage by inspiring Emiratis to breed and care for camels. "Camels were a key means of livelihood for the people of the Arabian Peninsula," HHC chief executive Abdullah Haman bin Dalmook tells the Gulf News website. "They taught people patience and endurance and even had songs and poems written about them."
Next story: Chechnya mayor bans cake-cutting at weddings
Use #NewsfromElsewhere to stay up-to-date with our reports via Twitter.