China: Prisoner amnesty proposed for WW2 anniversary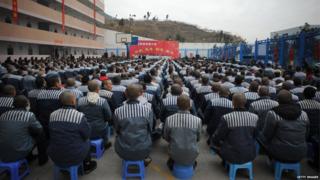 China is considering a prisoner amnesty for war veterans as part of commemorations to mark the 70th anniversary of the end of World War Two.
A proposal presented to lawmakers lists four categories of inmates who would be released under the plan, including veterans of the Second Sino-Japanese War and China's 1945 to 1949 civil war, the Global Times reports. Inmates aged 75 or above and anyone unable to care for themselves due to physical disabilities would also be included, as would young people who committed crimes before they turned 18 and were sentenced to no more than three years behind bars. But anyone convicted of serious crimes including murder, corruption or "endangering national security" will remain locked up, Xinhua news agency notes.
If approved, it will be the first amnesty of its kind for 40 years. While state media have been embracing the proposal as an example of "China's humanitarianism", Hong Kong-based sites note that the restrictions mean several high profile prisoners have no hope of release, including Nobel Peace Prize winner Liu Xiaobo. "There's leniency on the surface, but only a small number of prisoners will benefit," commentator Zhang Lifan tells the South China Morning Post.
Some on China's Sina Weibo social network express anger over the idea. "The so-called legal system delivers another slap in the face," writes one user. "If I speak honestly, I'm afraid," says another person. "Perhaps because I've only seen this kind of thing in history books, not in real life." But others are impressed by the proposal, with one person writing: "This demonstrates the dignity and authority of the law."
Next story: Tajik man fined over 'illegal' birthday party
Use #NewsfromElsewhere to stay up-to-date with our reports via Twitter.