Japan: Centenarian gifts downgraded to cut costs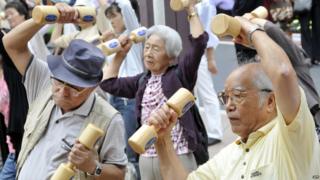 Japan's government plans to end the tradition of giving centenarians a silver commemorative gift, because the growing elderly population has made it too expensive, it's reported.
Since 1963, a silver sake cup - or sakazuki - has been presented to everyone who reaches 100 years old. The cups, worth 8,000 yen ($65; £40) each, are a thank you for centenarians' contribution to society. But as Japan's elderly population has expanded, so too has the gift bill, Kyodo news agency reports. Last year, the government shelled out 260 million yen ($2.1m; £1.3m) on the items, a figure officials say isn't sustainable.
As a result, they want to replace the gift with something less pricey. Options being considered include using cheaper materials or choosing something completely different to mark the occasion - possibly just a letter of congratulations, officials tell Kyodo.
There were more than 29,000 new centenarians in Japan last year, compared to 153 when the scheme began, the report says. Life expectancy in Japan is among the highest in the world, and the number of people seeing their 100th birthday has grown every year since 1971.
Next story: No hats or sunglasses for S Korea cash machine users
Use #NewsfromElsewhere to stay up-to-date with our reports via Twitter.