Egypt: Gaffe sees Yemeni flags adorn Cairo streets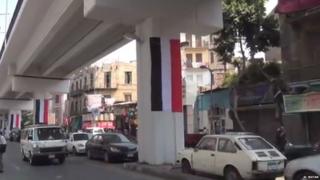 The authorities in Egypt's capital city have inadvertently left the streets festooned with the Yemeni flags ahead of a major national event.
Egypt's red, white and black flag has been hung from major buildings and along streets in Cairo to celebrate the opening of the second Suez Canal on 6 August. But Egyptian media point out the absence of a critical element on many of the banners - the central golden eagle of Saladin, a national symbol. The oversight left the capital's streets "awash with Yemeni flags", the Al-Masry al-Youm news website quips, as Egypt's eagle is the only thing differentiating the two. Al-Masry al-Youm suggests that the blunder could be related to recent reports on the spread of poor-quality imported flags.
But while the media were on the ball, people on the street either didn't notice, or weren't that bothered. Al-Watan newspaper asked several locals whether the flags on one street were definitely Egyptian. "Yeah what else would it be?" one man responds. But he soon realises: "Oh, it's missing the eagle!" Others say the error doesn't matter, with one person telling the newspaper: "Even if the eagle is missing, either way, that's the Egyptian flag." Another man suggests it would have cost the authorities more to add the eagle, and people should just be grateful for the decorations.
Next story: Japanese city preserves tsunami 'dragon tree'
Use #NewsfromElsewhere to stay up-to-date with our reports via Twitter.