Italy: Leonardo da Vinci 'fridge' prototype on show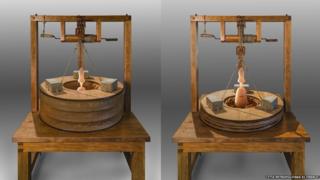 A sketch by Leonardo da Vinci of a "cooling machine" has been brought to life, with a working model of the contraption being presented in Milan.
The inventor's design, which has been dated to around 1492, included both a drawing of the machine and a theoretical explanation of how it would work, the Firenze Today website reports. It was likely designed for drinks, or perhaps sorbets and desserts, the report says. The machine uses a large, circular bellows to create a blast of cool air, which is then channelled through multiple nozzles to concentrate it on a central pitcher.
While Leonardo is known to have been a prolific inventor, sketching designs for everything from bridges to flying machines, it's possible that the cooling machine became a reality during his lifetime. He organised various banquets for noble families which involved water or snow fountains, according to Alessandro Vezzosi, director of the Museo Ideale Leonardo da Vinci. "There's no reason to rule out the possibility that this machine was also built in his laboratory."
The new model was a collaboration between Mr Vezzosi's museum and the ice cream company Sammontana, which helped to provide funding. It will be on display at Milan's science museum - which is named after the inventor - until the end of October.
Next story: Bronze Age gold spirals unearthed in field
Use #NewsfromElsewhere to stay up-to-date with our reports via Twitter.