Japan: Free wi-fi for Mount Fuji climbers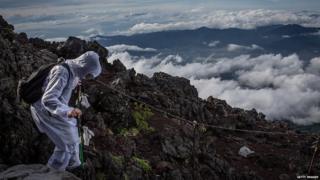 Climbers tackling Japan's highest mountain will soon able to stay connected thanks to the introduction of free wireless internet.
The new service will start on 10 July and run until September, with wi-fi hotspots at eight sites including the summit, the Asahi Shimbun website reports. Officials say they've had a slew of requests from American and European tourists who want to use the internet while hiking up the mountain, and they're hoping the move will also attract more visitors.
"We hope people will use the service not only to tell people abroad about the attractions of Mount Fuji, but also to obtain weather and other information to ensure their safety," says a tourism official. Two local authorities worked with a telecoms company to set up the new service.
Some people commenting online like the idea of being able to share their exploits with friends and family back home, but others aren't sure that smartphones and mountains should mix - especially when it comes to people looking where they're going.
"It's bad enough on the street but climbing a mountain - one down and they all fall down like dominoes," writes one person on the Japan Today website. "Free wi-fi? Sorry, but the entire point of nature is not to be connected to the internet," says another user. And one person adds sardonically: "About time. In memory of those who didn't make it due to internet starvation."
Next story: 'Space out' competition held in Beijing
Use #NewsfromElsewhere to stay up-to-date with our reports via Twitter.